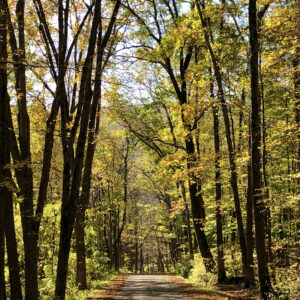 It's been a muted fall in the Berkshires. The spring plague of gypsy moths followed by endless weeks of rain (July was the wettest on record) did a number on the leaves. Some just seemed to drop en masse overnight as if too exhausted to hold on another second.  The hot crimson reds and burnt sienna oranges that usually light up our hills each October are missing for the most part from the autumnal color palette. This is the year of yellow. Beeches, oaks, birches, apples, even some maples are sporting the same look, as if bowing to the dictates of this fall's fashion trend. But in a year of painful stops and starts, yellow is perhaps a fitting color, signaling: slow down or proceed with caution because who knows what may be coming?
Here's a shaggy-dog poem by the award-winning Midwestern poet Keith Ratzlaff which features two actual dogs I would very much like to meet.
Yellow Landscape
Keith Ratzlaff
I'm walking through goldenrod
in new shoes, shoes I got for a song—
like the one I'm singing now
that pleases the cicadas, the one
that would make Schubert cry.
And I love the way the ash
is the first tree always
to turn, throw its hands
in the air and say shoot me
like a tourist on the subway;
or the way Napoleon's troops
burned the flag rather
than surrender it, then
drank the ashes in brandy.
It didn't matter. It was still
the same black feather
on the tongue, they were still
the same superior forces.
So I'm singing for the ash
and the cottonwood, then
for the cowardly willow,
for crows dying in their steeples,
for shirts I should have never thrown out—
the ones with destinations on their chests;
I'm singing swansongs and torch songs,
songs of the Chinese Coffin-pullers,
of men standing on one leg,
of the birch outside my window
abducted by bag worms. The tree
has wriggled one green leaf free
and waves it goodbye like a hankie,
waves I'm all right, I'll be home, 
don't worry. And I've got leaves
in my pocket for company
and I'm walking through the sunflowers
and chicory of the autumnal Midwest,
and I'm singing for my occasional friends—
two Labradors—who come bounding up
and I'm singing for the kid
paid to walk them but who's always late,
singing because I don't like dogs much,
but these two include me as if
I were still inclusionable.
This isn't regret,
but relief that again this year
we will give up the Chateaux
with a minimum of bloodshed.
And the younger dog fetches
cottonwood leaves, carries them
soft-lipped in his mouth
the way I would if I were a dog,
by instinct. And I'm singing
because who else but a dog
could be so happy at finding me here?
And I'm singing because yesterday
I needed something to hold,
and he laid his gold head in my hands.