Sage-Roasted New Potatoes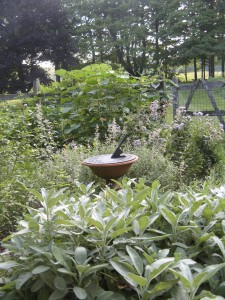 Many years ago when I was still living full-time in Manhattan, I came across a little book entitled "The Potted Herb" by Abbie Zabar. A pretty, illustrated how-to guide to growing 22 different kinds of herbs without the benefit of a big back yard, the book opened up a whole new vista of possibilities for me — it was as though I'd suddenly discovered that a sunny spacious terrace had magically attached itself to my small one-bedroom apartment. Inspired by the charming line drawings and Mr. Zabar's (of Zabar's Food Market fame) enthusiasm for the subject, I invested in some cheap earthen-wear pots, dime-store potting soil, and garden-variety plants. With remarkable ease and speed I soon had basil, parsley, and rosemary growing happily on my windowsill.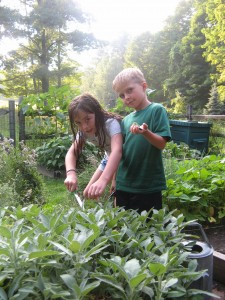 Whatever happened to that starter garden is lost now in the mists of time, but the pleasure of cultivating and cooking with fresh herbs has only grown for me over the years. I now have one of the raised beds in my vegetable garden devoted entirely to herbs. As opposed to the care and mothering involved with raising tomatoes or peas or mesclun, herbs are for the most part self-starters that prefer to be left to their own devices. They're also loyal and reliable, many — such as sage, thyme, marjoram, mint and catnip — returning year after year, like long-time guests to a favorite B&B.
It's true that herbs play supporting roles in most culinary undertakings, but as with first-rate character actors, they can also make all the difference in a production's ultimate outcome. A snip or two of parsley, basil, or cilantro can transform a "simple" green salad into something subtly sensational.
Sage leaves, sauteed in butter beneath slices of pork tenderloin, provide complex, earthy undertones of flavor. Fresh mint, shredded into pasta with grilled feta and sausage, snaps the taste buds to instant attention. In the summer, when my garden is thriving, not a day and rarely a meal goes by when I don't add one or two fresh herbs to whatever it is I'm cooking.
These plants are kid-friendly, too. This past week, with a young niece and nephew visiting, I sent them to the garden to harvest sage for one of their favorite dishes: Sage-Roasted New Potatoes. Rather than leave the sage leaves in a cluster, though, the kids took great delight in tearing them to bits and sprinkling them over the potatoes.
And finally, we tucked mint leaves around the chocolate sorbet that we'd made the day before, adding a perfect final touch to a light but rich-tasting and very cool (in both senses) way to end a long, hot summer's day.
Which herbs have you tried lately? I'm always looking for new ways to expand the herbal repertoire — so send me your thoughts, recipe ideas and such in the comments section below.